Co2 Extracted
Essential oils and oleoresing extracted from SCFE Co2 Extraction are avilable on orders :-
| | | | | |
| --- | --- | --- | --- | --- |
| White Pepper | Black Pepper | Capsicum | Cardamom | Cassia |
| Celery | Clove | Coffee | Coriander | Cumin |
| Cinnamon | Decalepis | Dill weed | Fennel | Garlic |
| Ginger | Green Tea | Mace | Nutmeg | Pimento |
| Paprika | Rosemary | Sesame | Star Anise | Seabuck thorn |
| Turmeric | Thyme | Vanilla | | |
Supercritical Extracts are best suitable for Spices used for Food and flavors, with SCFE there is no residual solvant in the essential oil or oleoresin.
To better understand the procedure opted for SCFE , please check the below diagram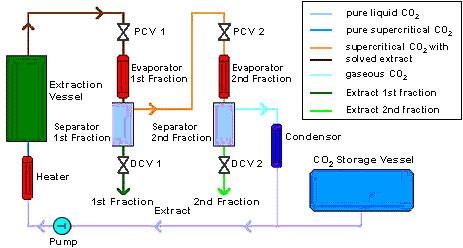 The cost of Co2 Extract process is higher than the traditional , Steam or Solvant distillation process.
These oils will be soon available on our website for online ordering.
To know more or place an order for SCFE products Please send your requirements to sales@essentialoilco.com